I really feel sad writing this post and I want to stop writing right now, but one day things to come to an end so with a heavy hear I begin. So here I go...warm welcome again to the final discussion on The Homing Pigeons by Sid Bahri. The main hosts of today are Sari
ka and Janhvi a
ka TheReaddicts
.
Before reading this post, read their post
here
.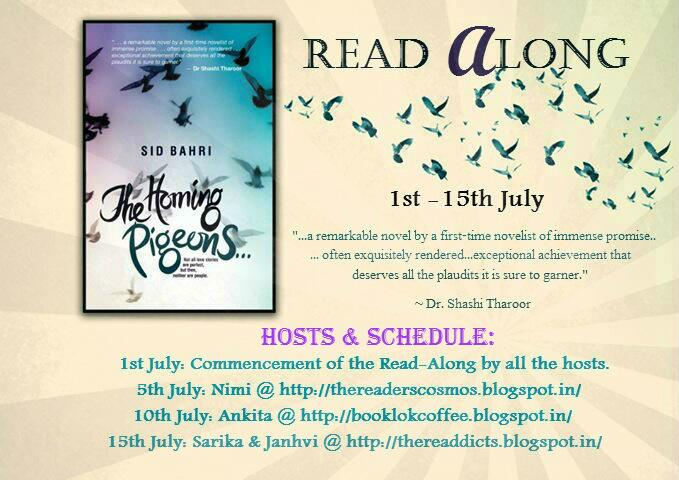 For those who missed the earlier posts please refer to the first wo posts here:
So as we near the climax of this story Sari
ka and Janhvi as
ked the most relevant questions. My answers to them are as below:
The Readdicts:

Did you enjoy reading The Homing Pigeons..? Did it meet your expectations?
Ofcourse I did. The best part was the climax. All I can say to the readers is just go read it for yourself. No spoilers. The best features of the book are an amazing cover page, a fabulous , fresh and novel and mature story away from mushy romance and above all a great story telling style which is very challenging as the characters repeatedly go back and forth and the challenge being - to keep the reader engaged.
The Readdicts:

In the book Adiya feels parental pressure which leads him to make life changing decisions. What do you think of it?
I believe what Aditya did was what any obedient son would do. The lesson here is for the parents: Why to inflict pain and blame those who never caused you pain? Just because one was born in a different religion? But did she choose the religion? Also not just riots, many parents oppose marriages in different castes and religion which is highly prevelant in India even today. The message is for everyone the parents today and the parents tomorrow " If your child isn't happy with your decision today, he/she will never be. You create life, give them love and freedom to nurture and flourish".
The Readdicts:
What did you think of Radhika's decision in her second marriage? Is revenge really satisfying?
Well I wouldn't call it revenge entirely. One marriage failed. The man she loved promised to be with her for all life but betrays you (as she thought) when she was pregnant. Parents? she never had them. What does one do in such a situation? Be worldly wise and practical, precisely what she did!
The Readdicts:
Did you like the way The Homing Pigeons ended? Do you want a sequel?
I loved the ending a lot, though a little more elaborate would have been better. Really looking forward to it and a read along of the same too :) :) :).
The Readdicts:
Did you like Sid Bahri's writing?
I have sung hymns about the writing style in this post, my earlier posts as well as the review :P. Sid Bahri in short is an Indian author whose writing is fit for international markets. I truly believe it deserves to be a best seller and I hope all you readers reading this post will help us ma
ke it one.
We would love to hear from our readers and also discuss and answer questions. The author Sid Bahri shall also be personally answering them. You can post your questions to him on twitter
@Sid_Bahri
of his faceboo
k page
.
This marks the end of the Read Along of The Homing Pigeons by Sid Bahri. My sincere thanks to the finest blogger's I know The Readdicts - Sarika and Janhvi, as well as Ankita for making me a part of it and also for their all time support and guidance to a novice like myself.
Also Ankita for the attractive poster and The Readdicts for the lovely button. I enjoyed the questions you all posed and all the thought process to answer them. Loo
king forward to more.
Special than
ks to Sid Bahri for everything, hoping I get bac
k to posting about the sequel really soon. Stay Tuned.